Quadra-X Ring design reduces friction by as much as 40% because of smaller contact area. The X-Ring's 4 point contact patch also offers better sealing than conventional o-rings. Lab tests show the Quadra-X ring chains last 50% longer than a standard O-ring chain!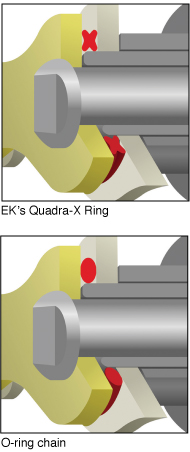 Color Options


EK offers some chains in special powder coated colors. These chains make your motorcycle good looking and cool. Dress up your motorcycle!

Color availability
Gold, Chrome, Red, Blue, Green, Black, Yellow, Purple, White, Orange, Pink
Metallic Gold, Metallic Silver, Metallic Red, Metallic Blue, Metallic Green, Metallic Orange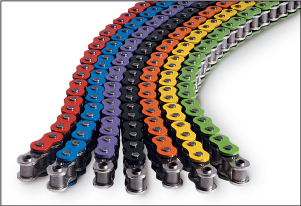 CRH Pin Treatment


EK's exclusive CRH pin treatment provides an extremely hard outside coating and softer inside to increase strength and reduce chain wear. The Chromium Carbide pin surface coating also offers superior impact and shock absorption while reducing oxidation caused by natures elements.

CRH pin is equipped on the following products.
・420SH, 428SHDR, 520MRDL6, 520MRD6(For Motocross)
・520RX(For Road Racing)
・530DR2, 530DRZ2(For Drag Racing)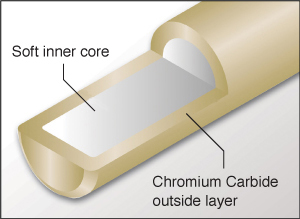 Screw Type Master Link
(SLJ)

EK's screw type master links do not require any special tools for installation. This unique patented link gives a rivet-like fit, using only an 8mm wrench and a pair of pliers.

You heed only an 8mm wrench and a pair of pliers.
Lightening Holes

Lightening holes on the side plates
Reduce the chain's overall weight by 3%, without compromising tensile strength.
Extend the service life by dissipating heat.
Helping reduce dirt and mud build-up.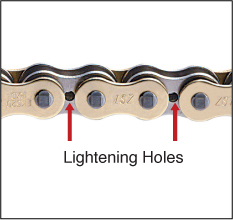 Chain Cutting & Riveting Tool
(CRT50)


EK's chain tool is machined from solid billet hardened steel and designed to last for a lifetime of service. This tool can be used to drive out pins when removing old chains and installing your new chain with the included clamping plates.